Minister of Foreign Affairs Nikola Selakovic held today a trilateral meeting with Ministers of Foreign Affairs of Cyprus, Nikos Christodoulides, and Greece, Nikos Dendias.
On that occasion, the Serbian Foreign Minister emphasized that he talked with his colleagues about the European future of our country, but also that he reached an agreement on meetings to be held every six months, where they would discus topics from a number areas of interest to Serbia, Greece and Cyprus.
Selakovic pointed out that they also discussed economic cooperation, infrastructure, strengthening ties, energy, gas supply from various sources and various routes, and pointed out that the main goal of Serbia in regional policy was to preserve peace and stability.
He added that the Ministers agreed that greater cooperation was needed in the fields of tourism, agriculture and the IT sector.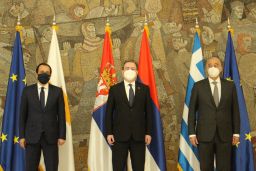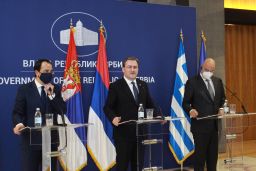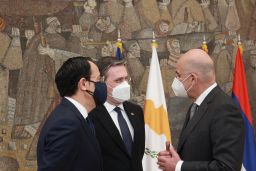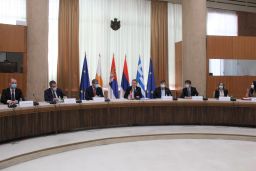 Minister Selakovic thanked Greece and Cyprus for their principled support on the issue of the preservation of the sovereignty and integrity of Serbia, but also in terms of European integration, and pointed out that Serbia supported Greece in continuing the dialogue with Turkey, as well as when it comes to an agreement with Albania on determining border between the two countries.
Furthermore, he emphasized that Serbia reiterated its support to the sovereignty of Cyprus and also extended support to the continuation of the dialogue between Cyprus and Turkey.
Minister of Foreign Affairs of Cyprus Nikos Christodoulides thanked Selakovic for his hospitality, stating that the three countries had friendly ties, and that the future trilateral cooperation represented the creation of a positive agenda in the interest of all peoples.
He pointed out that the citizens of both Serbia and Greece would be able to travel to Cyprus with a negative PCR test from 1 April, stating that this was the first step towards returning to normal.
"The ultimate goal is to strengthen the stability and well-being of the Western Balkans and the Eastern Mediterranean", Christodoulides said, congratulating Serbia on the impressive pace of immunization that puts our country at the very top globally.
The Minister of Foreign Affairs of Cyprus emphasized that today he confirmed to his Serbian colleague the strong support to Serbia and readiness for any possible assistance in achieving the strategic goal of joining the EU, as well as when it comes to non-recognition of Kosovo and Metohija.

Greek Foreign Minister Nikos Dendias pointed to the prospect of cooperation between Greece and Serbia in the field of energy and security, as well as infrastructure.
Dendias said that he was concerned about migrant flows, and he also stated that Turkey needed to strengthen the control of its borders.
The Head of Greek diplomacy reiterated his country's support to Serbia on its European path and specified that the Greek Prime Minister ordered that everything be done to help our country on that path.