Minister of Foreign Affairs of the Republic of Serbia Nikola Selakovic visited the Church of Saint Sava today with the Heads of diplomacy of Greece and Cyprus, Nikos Dendias and Nikos Christodoulides, and informed them about the details of the construction and interior of the largest Orthodox church in the Balkans.
The high-level delegation was received by representatives of the Serbian Orthodox Church, and the Greek and Cypriot guests showed interest in every detail in the church already at the entrance.
The Foreign Ministers did not hide their enthusiasm for the mosaic, which covers an area of 15,000 square meters, and Minister Dendias commented on his impressions by saying that he was delighted and that the church, and especially the mosaic, looked spectacular.
At the end of the visit to the church, the representatives of the Serbian Orthodox Church presented gifts to the guests, for which Minister of Foreign Affairs of Cyprus Nikos Christodoulides thanked them in particular.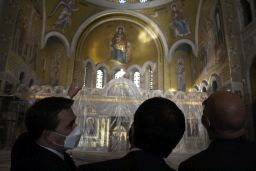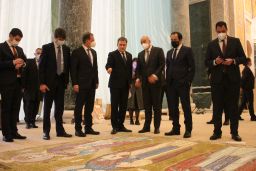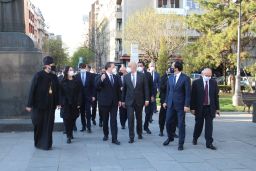 Greek delegation visits Al Dahra Serbia company

Greek Foreign Minister Nikos Dendias and Minister of Rural Development and Food Spilios Livanos visited the Al Dahra Serbia company in Padinska Skela this afternoon, accompanied by the Head of Serbian diplomacy Nikola Selakovic.
The guests from Greece and Cyprus showed interest in exchanging experiences with Al Dahra, which is the owner of the property of the Agricultural Corporation Belgrade (PKB), as well as in joint investments in agriculture.
Minister of Agriculture Branislav Nedimovic met with Livanos earlier in the day and stated afterwards that Greek companies were interested in investing in Serbia.
Earlier today, the Foreign Ministers of Serbia, Greece and Cyprus held a trilateral meeting and discussed strengthening cooperation among the three states, as well as the European future of our country. An agreement was reached to hold such meetings every six months, and that the next one will be held in Thessaloniki.
This evening, at Nikola Tesla Airport, the Serbian Foreign Minister bid farewell to the Foreign Ministers and high-level delegations of the two countries who brought their visit to our country to an end.