On the Day of Reconciliation in the First World War, the Minister of Foreign Affairs, Nikola Selaković, visited the Serbian military cemetery Zeitenlik in Thessaloniki, where he laid a wreath and emphasized that we paid a high price to live in a sovereign, free and upright Serbia today.
"Serbia is still fighting for its own and the honour and freedom of its people in every place, and it is winning in the economy, in education, in sports, it is winning in all fields, and today's victory was made possible by our glorious ancestors and their victory 103 years ago, on 11 November 1918", said the head of Serbian diplomacy.
Minister Selaković emphasized that 11 November, our victory day, when we entered the history of the world in golden letters, is something that we should celebrate and mark in the most solemn way.
"As long as we do that and as long as we remember, we will exist. The fact that we exist today, that we stand here, that our free and sovereign Serbia exists and stands upright, is a fact that proves our victory", said the head of Serbian diplomacy.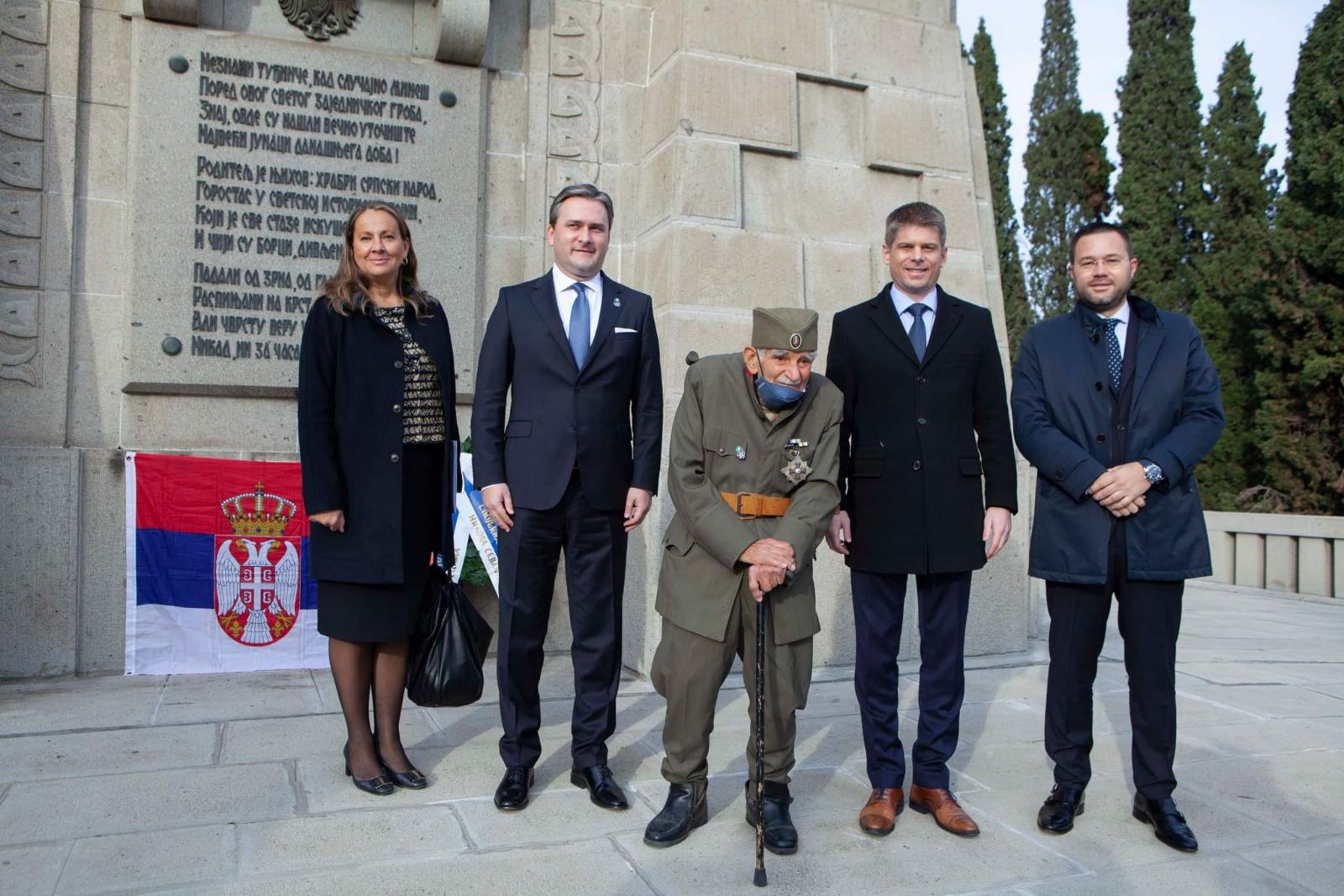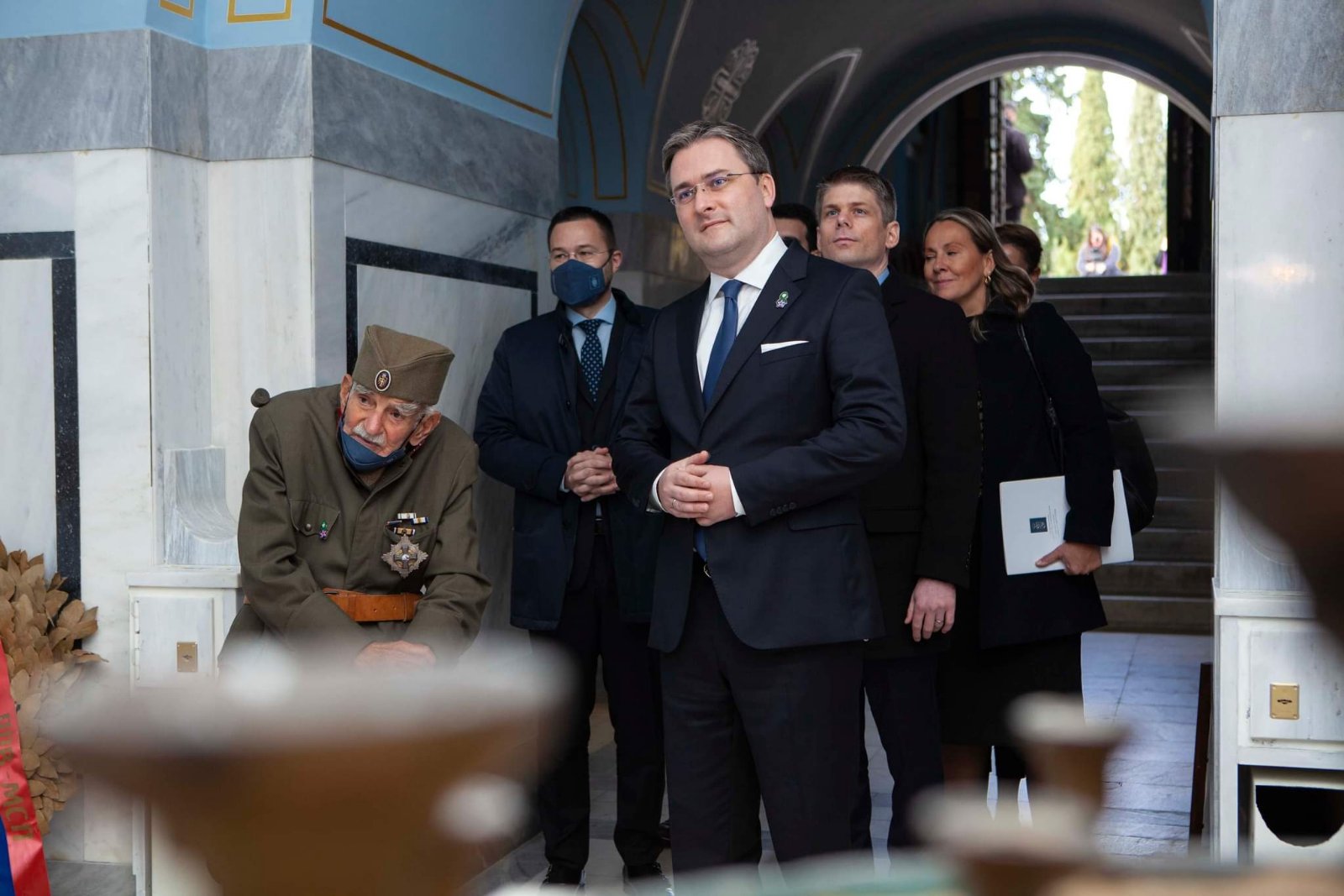 Selaković said that our grandfathers and great-grandfathers fought with a rifle and a bayonet in their hands, and that today we should fight with our minds and wisdom to preserve what they defended and liberated and, most importantly, to keep the Serbian honour for which they gave their lives.
Minister Selaković emphasized that we should remember the great sacrifice that the Serbian people made in the Great War, fighting for honour and their freedom, as well as for the freedom of Serbia and Serbianness.
"We have to remind ourselves of that often, every year, because more than 8,000 of the best sons of the Serbian people from all parts where Serbs lived and where they live today, rest here, who did not live to see that moment of freedom, but they built their young lives into our national edifice in which we can live today", the head of Serbian diplomacy emphasized.
According to him, Zeitenlik is one of our national sanctuaries, one of the places where we should bring our children and which every man and woman from Serbia should visit during their life.
Out of 21,000 allied soldiers, more than one third, i.e., over 8,000, are Serbian soldiers buried in Zeitenlik, and Minister Selaković said that Đorđe Mihajlović, who today receives the "Mother Serbia" award, has dedicated his entire life to preserving the memory of those who rest here and has watched over the shadows of our brave soldiers for 61 years.
"This wonderful man shows by his own example how one man can do a great deed for his people and for his country. As in the "Time of Death" when Duke Mišić says "let every soldier clean his boots, rifle, prepare his ammunition", so that everyone does their job and waits for the moment when they can give their contribution to something that is a great national work. Our grandfather Đorđe Mihajlović has been doing that for 61 years", said Minister Selaković.
According to him, the grandfather of Đorđe Mihajlović, Savo, a soldier from Thessaloniki who was the first guardian of our cemetery on Zeitenlik, also rests there, as well as his father, Đuro.
"It is up to all of us who come here to keep the memory of our soldiers, to celebrate this day not only as the Reconciliation Day, as the whole of Europe celebrates it, but as the day of victory. Our people, our state have won, 1,247,435 victims were made by little Serbia for the freedom and honour, not by conquering, not by enslaving, but by liberating and protecting its honour and freedom, and that is something we should be proud of and which should serve us as an example", stated Minister Selaković.
As he reminded, when the occupiers came to Serbia in 1915, the first thing they did was to print a death certificate, informing the world that Serbia had died.
"Serbia did not die, Serbia was resurrected, Serbia still stands upright today", said Minister Selaković.