Prime Minister Ana Brnabic stated in Brussels today after the Intergovernmental conference on the accession of the Republic of Serbia to the European Union (EU) that today is a very important date and a turning point for Serbia.
Brnabic said that in line with the new methodology, Serbia has opened cluster 4 – Green Agenda and Sustainable Connectivity, and within cluster 4, four chapters have been opened.
The Prime Minister underlined that this is a great success on which she wants to congratulate all citizens of Serbia and she thanked President of Serbia Aleksandar Vucic on the support and understanding he showed.
An important segment of the new methodology is political management of integrations. What we have done in the mandate of the new government is that we manage, together with Minister of European Integration Jadranka Joksimovic, the integration process and all reforms, first and foremost in the field of the rule of law, politically in full, and that yielded results, the Prime Minister said.
She said that the opening of the chapters is a huge motivation for further reforms in the field of the rule of law, public administration and the economy.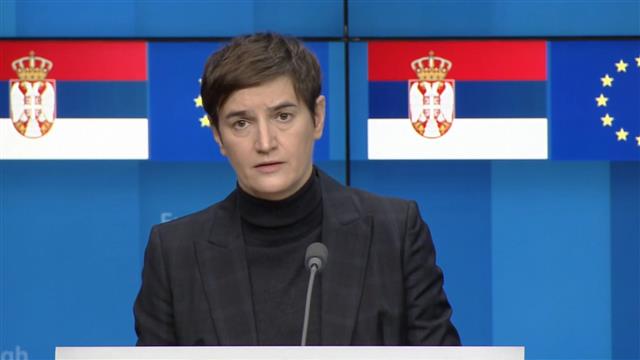 I would like to thank all EU Member States, as well as the European Commission, for their support and understanding. They have shown that they are open, that they are ready to see, to listen, to reward everything we have done and therefore this is a great motivation to continue, not even in the same way we have worked so far, but to go faster and to work better, she noted.
Brnabic voiced hope that Serbia will open cluster 3 in 2022, which is ready, and that preparations for the opening of cluster 5 are on the agenda.
The Prime Minister underlined that environmental protection is gaining importance and that this topic is increasingly present and important in Serbia.
Regional stability, dialogue with Pristina and the economy also remain our priorities. I am satisfied, and we talked about that today, about economic results Serbia is achieving. I expect our growth this year to be 7.5 percent, the Prime Minister pointed out.
She said that the degree of harmonisation of Serbia with the foreign and security policy of the EU currently stands at 65.55 percent.
Brnabic also thanked Slovenia for the successful EU presidency, she thanked EU Member States on their support, as well as the European Commission, European Commissioner for Neighbourhood and Enlargement Oliver Varhelyi and European Commission President Ursula von der Leyen.
Source: www.srbija.gov.rs
Photo: Tanjug